University Challenge
14/06/2016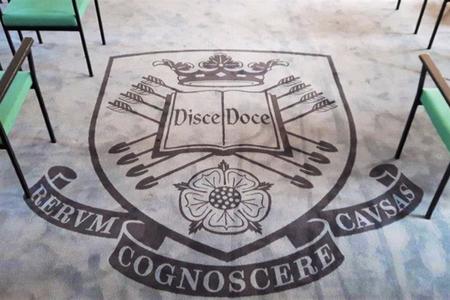 Birch Carpets are pleased to have been involved with the refurbishment of the Slaughter and May Moot Court, at the University of Sheffield, School of Law.
The brief called for a plain, plush, cut pile broadloom carpet in a commercial contract quality, featuring a large scale crest, as well as a second smaller crest in a contrasting colour. The total quantity carpet was approximately 120m², and the University crest needed to be positioned accurately, in order to suit the layout of the room and the location of fixed furniture.
All this was achieved by using our new Impulse ChromoJet System, which allows white carpet stock, which is available in a variety of commercial qualities, to be printed with digitally generated images, by propelling stable and colourfast ink droplets into the fibre of the carpet. The result is a clear and crisp image, which is guaranteed to last for the useful life of the carpet. When this is combined with the high-quality carpet onto which the designs are printed, customers can specify this product secure in the knowledge that the carpet will stand the test of time. The very latest technological advances in this method of printing make certain that we can achieve total yarn penetration with the printed image, ensuring that the fibres are coloured consistently from tip to base.
This particular carpet has been supplied in our Poseidon quality, with features a 1400g pile weight, and is manufactured from 100% 6.6 nylon, in order to assist durability and ease of maintenance. The product also features a high-density 500g felt backing for improved underfoot comfort, as well as acoustic and thermal performance.
The carpet installation was carried out, on behalf of the University of Sheffield, by Contraflor (Contract Flooring Specialists) of Runcorn, Cheshire.
For customers looking for a bespoke carpet, whether they're looking for a bold crest, as in this case, or a specific design, re-coloured to sort their own scheme, the new Impulse range offers the ideal flexible and cost-effective solution, particularly whatever the quantities involved. Birch Carpets have the experience and expertise to guide you through the selection of your bespoke carpet, whether produced using this method of carpet dying or by using one of the other solutions we have at our disposal.
In addition to the bespoke broadloom carpet specified for this project, we were pleased to also supply our best-selling Hi Tech carpet tiles for use in store-areas. Hi Tech is a heavy contract solution dyed nylon product with a 550g pile weight.
For more information on the Birch Carpets Impulse, or on our bespoke carpet capabilities in general, please contact our sales team. They'll be happy to provide you with further details of qualifying quantities, timescales and costings.