Carpet Tiles: The Advantages and Disadvantages
14/11/2019
Carpet is an easy way to add warmth, texture and tone to any commercial or living space. How you choose to install the carpet is dependent on your space, budget and style.
The most traditional method of fitting carpet is called 'broadloom carpeting.' In this, carpet is cut from large sheets and installed from wall-to-wall. It's effective but it's not necessarily appropriate for every area.
Carpet tiles have become an increasingly popular alternative in recent years due to their modular nature - especially within high-traffic spaces, such as offices and classrooms. However, to know if carpet tiles are the best fit for your project, it's important to have a deeper understanding before making your purchase, including the pros and cons of carpet tiles.
What Are Carpet Tiles?
Carpet tiles, or 'carpet squares' as they're sometimes known, are simply individual tiles of carpeting that can be slotted together. Usually, carpet tiles are structured with a layer of pile fibres, tufted into a primary backing which is then reinforced by a second layer.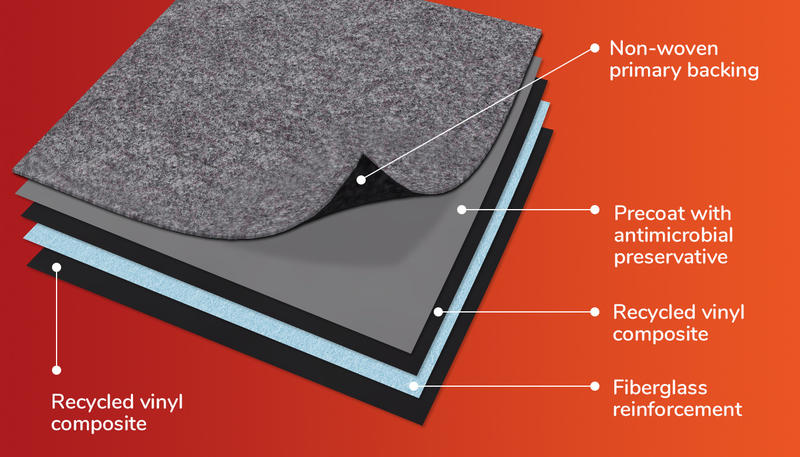 Developed in the mid-twentieth century, carpet tiles were designed to provide an accessible, self-serve flooring option that homeowners could easily install themselves.
In addition to the convenience of carpet tiles, there are limitless combinations of fun designs available, making them perfect for simply adding vibrancy to a space.
While domestic trends have continued to favour broadloom carpet, with laminate, vinyl and hardwood flooring also growing in popularity, as an option in the home, carpet tiles have continued to grow in popularity in a different, more commercial market.
Offices, school classrooms and many industrial spaces usually opt for carpet tiles due to their durability, easy maintenance and efficiency.
What Size Do Carpet Tiles Come In?
The most common size of carpet tile is 50 x 50cm, however, they are available in other formats & dimensions too.
It is not just squares that the tiles can be sold in either – there are more niche, odd shapes to fit certain rooms or to create a certain effect. They will, however, be a little more expensive to purchase and some require a bit more skill & planning to install, though the professional installer should have no difficulty managing this.
What Carpet Tile Styles Are Available?
When carpet tiles were a roaring success within the home, particularly in the sixties and seventies, the design and colour were a main reason why. Recent development in technologies allows for carpet tile colour and designs to be more exuberant than ever.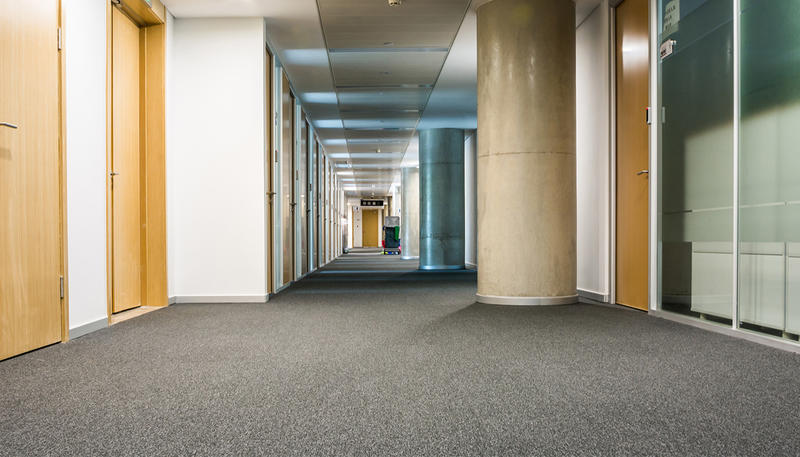 While a staple of the carpet tile is a boxy look, where the pattern flows together easily, it is not uncommon to see alternative, geometric shapes flow across a room. This is becoming an increasingly popular option for many office spaces.
Carpet tiles use various pile yarns in their makeup and there are a range of materials used, each with their own benefit. The most popular is nylon, which has excellent wear performance and is recyclable. You will also find carpet tiles made from materials such as wool, polypropylene and recycled polyester (PET.)
Advantages of Carpet Tiles
Easy to Install
Arguably one of the most attractive benefits of the carpet tile is simply how convenient they are. As they are modular and able to purchase in small units, they are easy to store, transport and handle.
When it comes to fitting, a professional installer will have no issues with carpet tiles as they are so simple to put together. Installation can go ahead with minimal disruption to the work or living space, and in a relatively short time frame.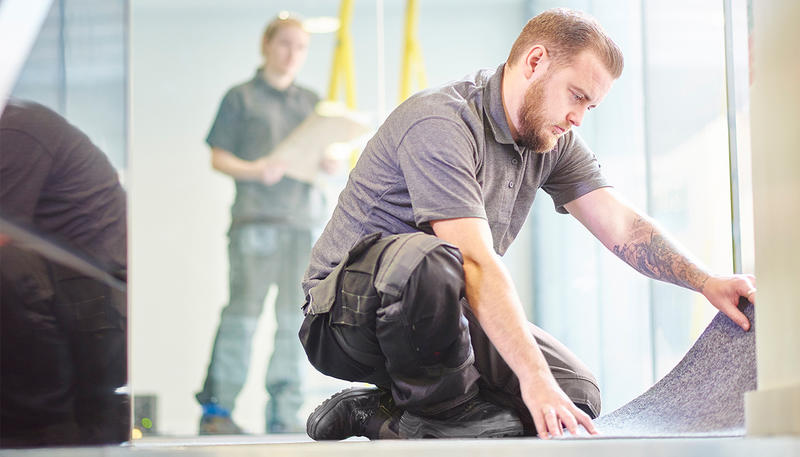 Versatility
Easy to handle in small spaces and quick to install over large areas, carpet tiles are genuinely a versatile product. With the many designs, shapes and materials they come in, there is something to suit every area – from boardroom to bedroom.
In modern office environments where floors conceal intricate cabling or ducting arrangements, which must be accessible at all times, carpet tiles are the answer. Since they're easy to cut to size, these areas can be accessed without the flooring being compromised.
Cost Effective
Carpet tiles are cost-effective as they are low on waste, require little storage space and are easy to transport. The key saver is the installation cost as this will, generally, take a lot less time for a professional installer, than it would for wall-to-wall carpet.
For businesses looking to install carpet, the relative speed of using carpet tiles will see a reduction in disruption and downtime, meaning lower associated costs.
Durability
Renowned for their lifespan and ability to withstand heavy traffic in busy spaces, carpet tiles are a high performing flooring option. The majority of carpet tiles are low pile, looped and very tight.
However, the specification of carpet tiles can be modified to suit different needs. By changing the yarn fibre, pile weight and backing option, you can vary the look, feel & performance of your carpet tile.
Low Maintenance
Easy to clean and easy to replace, looking after your carpet tiles is easy. Maintaining the day-to-day appearance of the carpets is simple as they respond well to regular vacuum cleaning but generally, as they are low pile, they tend to collect less dirt. Learn more about how to keep your carpets clean and prevent damage.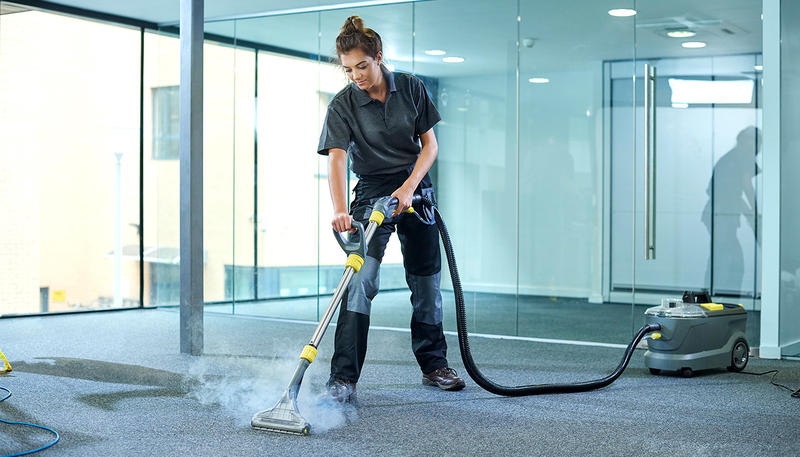 If there is a problem area in a certain area, the benefit of the carpet tiles is that they can be easily replaced. The tiles can be removed and replaced, as they were installed in the beginning.
Reusable and Sustainable
In the first instance of fitting carpet tiles, there is comparably very little waste since you order the tiles to fit the space – unlike broadloom, where this is not an option due to the wall-to-wall installation. This is a benefit in the long run too; should you need areas of the carpet tiles to be replaced, there is no need to replace the entire flooring.
Additionally, carpet tiles are reusable in many cases. While they may no longer meet your requirements, in terms of colour, design or quality of appearance, they will likely find a use somewhere else. It is not uncommon for carpet tiles to become refurbished and used in social or entry-level housing.
Disadvantages of Carpet Tiles
Most disadvantages of carpet tiles tend to be a product of their modular format rather than the tiles themselves, which are a great alternative to traditional broadloom carpet.
Non-Uniform Appearance
Even with inch-perfect placement, carpet tiles may not repeat the uniform look that broadloom carpets make – this is just the nature of how carpet tiles are designed. Some versions are better than others for mimicking a 'broadloom' look.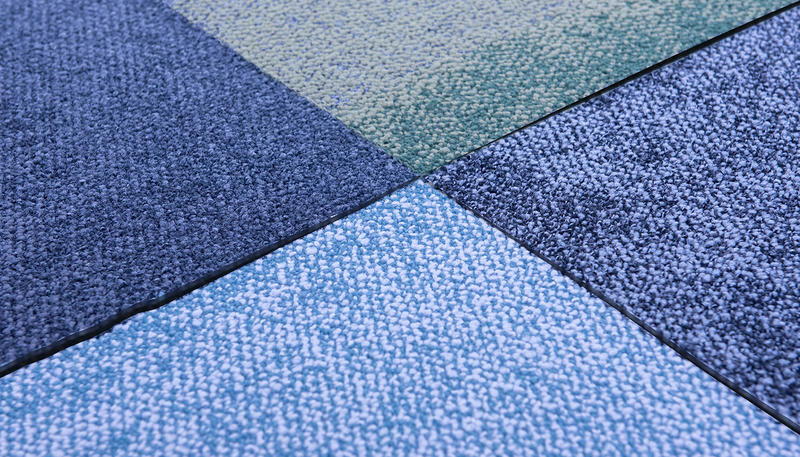 Fraying or Loose Fibre
For obvious reasons, there are more joints/seams in a carpet tile installation than there would be in an equivalent broadloom installation. If we ignore the aesthetic of this, there is no particular problem with this from a practical standpoint. Sometimes you can experience some fraying or loose fibre to tile edges, which has occurred during production, but this is a relatively easy matter to remedy during, or post, installation.
Overlooked Installation Steps
Whilst carpet tiles are, relatively speaking, straightforward to install it is vital that the manufacturer's recommendations and the relevant British Standards which govern installation practices and conditions are followed to the letter.
Acclimatisation, in particular, is one requirement which is sometimes overlooked, often for reasons of expedience. Failure to properly acclimatise tiles can lead to them 'moving' in the post installation period. This can lead to the overall look being unsightly as joints between tiles become more pronounced or tiles 'tent' (centre higher than corners) or 'dish' (corners higher than centre). The likelihood of this sort of problem occurring increases at times of year when outside and inside ambient temperatures vary most.
For the same reasons, it's also important to be aware of the instructions for bonding carpet tiles to the sub floor. Some tiles are self-adhesive, or use particular and specific bonding systems, but for the most part a tacky adhesive is used which helps to ensure stability of the tiles in the lateral plain, but still allows for tiles to be lifted removed. Recommendations on adhesive type and coverage may vary from product to product so specific details should be sought and followed.
Perception of Less Luxury
There has often been a perception that carpet tiles have a less comfortable, luxurious, feel underfoot than, say, a broadloom carpet installed over an underlay. Whilst this may have been true to a large extent, this factor can now be countered because many carpet tiles are now available with integral cushion backings which provide them with increased comfort, insulation and anti fatigue benefits.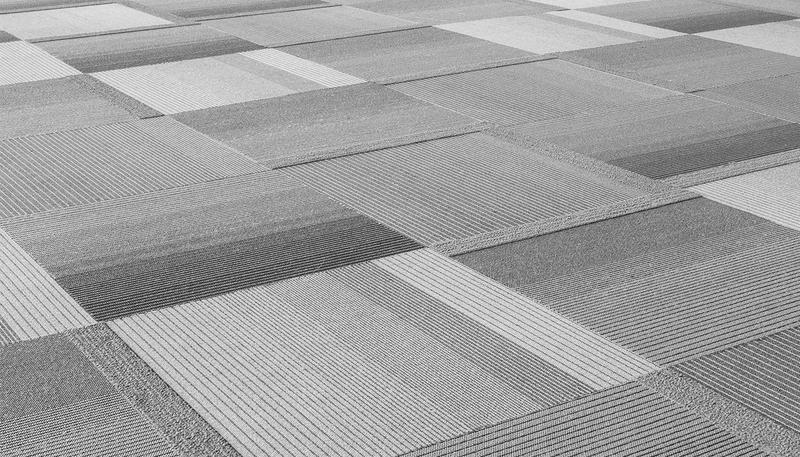 Should You Buy Carpet Tiles?
Ultimately, the decision is with you and whether you think carpet tiles will work in your space. Hopefully, after reading through our honest assessment, you will know but if not, let's take a look at the key reasons for buying carpet tiles:
If time is of the essence and you want your flooring to be installed with minimal disruption or downtime, carpet tiles are a great solution for you.
If ease of handling, distribution, storage and transportation are a benefit, carpet tiles have definite benefit over broadloom alternatives.


If relative ease of installation, and the potential cost savings that may result, is an attractive consideration you should definitely consider carpet tiles.


If you want a flooring option that is easy to maintain and replace, carpet tiles are for you.


If you want to be able to add some colour and personality to a room, but don't have the budget for a custom design, carpet tiles are an excellent way to bring this to your space.
Decided that carpet tiles are a great solution for your space? Check out our heavy-duty range - they are perfect for workspaces, classrooms and other heavy-traffic areas.
If you've opted for something else to suit, at Birch Carpets, we also have a fine range of other carpets, such as heavy-duty broadloom, cut pile carpets, wool carpets and more.