Multiple choice pays…
06/02/2015
Birch Carpets are pleased to have been involved in the recent upgrade to high a specification office space for the client, Dataplan, in Grimsby. Dataplan has been providing payroll for businesses and organisations throughout the UK for over 45 years, and aspires to be the best in outsourced payroll services.
They live and breathe payroll, acting for over 1000 organisations across the UK, processing over £200 million of payroll every month! Naturally, such a customer focused, technically advanced business was in need of an appropriately appointed accommodation.
Professional installers for the floor-coverings on this project were MBQ Flooring Ltd, also of Grimsby.
One of Birch Carpets strengths is the ability to offer the specifier several appropriate products, from a strong and varied portfolio, for different areas within a building. This way the look and feel of spaces can be differentiated both because of the type of wear they'll be subjected to, and because of the visual effect which the client is striving to achieve.
On this particular project four different Birch Carpets' products were used, each with its own attributes, but all displaying our core values of quality and value.
Entrance areas received our Barrier Tech matting product in colour Anthracite. Barrier Tech is an extremely cost effective 100% nylon pile carpet designed specifically for these types of areas. It features an impervious backing, and demonstrates an extremely high capacity for moisture and soil capture. It is heavy contract rated.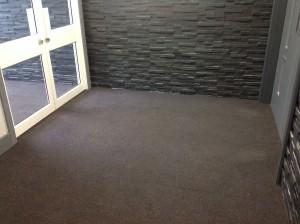 Our best-selling Hi Tech carpet tile, in colour 712 Slate, was fitted by, flooring contractor, MBQ to circulation areas. A firm favourite amongst our customers, Hi Tech is manufactured from 100% Solution Dyed Nylon and is, again, heavy contract rated. It is available in 16 attractive and practical colour-ways and ideally suited to the modern office environment, particularly where a high spec. and cost-effective solution is the order of the day.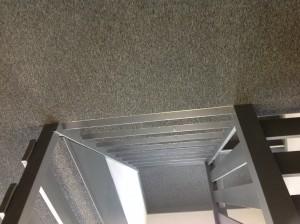 General office areas received another carpet tile from the Hi Tech stable. Our exciting Evolution, random lay, product. Again, manufactured to a highly durable heavy contract specification, in a range of 8 contemporary colour-ways to complement and contrast with our standard range. Evolution, which comes with an innovative recycling offer, is a great way to introduce design to your floor areas with ease, and without 'breaking the bank'.
Finally, the Board Room, at Dataplan, was fitted out with our Enyo carpet tiles. Enyo has a smart, contemporary linear design, and is manufactured using 100% Lumena Polyamide 6.6 fibre from Antron. A high quality, prestigious looking carpet tile perfectly suited for offices and other similar commercial areas, which will stand the test of time.
Michael Gillespie, our Technical Sales Manager for the region, commented 'It's particularly gratifying to see four varied, but complementary products, being used on a single prestigious project. Each one will deliver in terms of performance and aesthetic appeal, but by combining all four it gives the overall look of the project extra depth'.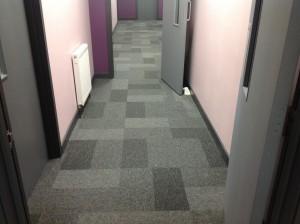 Samples of these, and other, Birch Carpets' carpets, carpet tiles and entrance matting systems are available online or on 0114 243 1230.