Hull City Hall
21/03/2017
Red Carpet Treatment, Every Time...
We are thrilled to have recently supplied replacement carpets for the stairs and circulation areas in Hull City Hall. This impressive building, originally completed in 1909, and then subsequently re-built in the 1950s following substantial damage caused by wartime air raids, is a pre-eminent live event venue in the city.
The Hull City Hall is a cultural hub, which is featuring centrally in Hull's City of Culture 2017 celebrations and holds numerous and varied events ranging from the Classics Orchestral Concert series to pop concerts, comedy shows, conferences, exhibitions and degree ceremonies.
The building is currently undergoing a substantial refurbishment with significant work already well underway. Completion is expected to be achieved this summer, at which point the theatre is expected to be among the best appointed in the UK.
The carpet, selected from our New Impulse bespoke high definition print range, is a deep red in colour with a two-tone fleck effect, which looks fantastic with the brass stair rods which span the broad sweeping staircases, and blends in wonderfully with the period interior.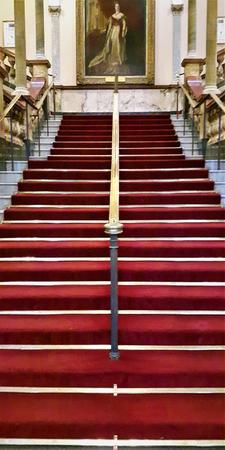 The carpet specified for the project was a heavy contract quality, with a substantial 1400gm nylon 6:6 pile weight, which will more than measure up to the expected heavy foot traffic these areas are likely to experience.
On this occasion, the carpet was installed for the client, by experienced local flooring contractor G.C. Flooring Limited.
New Impulse is a bespoke, dhttps://www.birchcarpets.co.uk/bespokeesigner-friendly carpet range, available in 6 commercial qualities, including an 80% wool, 20% polyamide variant. The design options are almost limitless, and the specifier can choose from a standard colour-bank of 232 colours. When you combine this breadth of choice with a very modest 100 square metre minimum production run, quick turnaround on sampling and a 4-6 week lead time from selection to delivery, it becomes clear why this range has proved so popular with clients nationwide.
For sampling or more information please contact our Sales Team on (0114) 243 1230 or complete the enquiry form on the 'Contact Us' section of this site.