Enigma on course, with college place
10/09/2013
A big thank you to Hull College for specifying appx. 600 square metres of our new Enigma carpet tile.
The installation photos were taken very soon after the tiles were installed, but highlight perfectly the attractive geometric design of the product. The colour used was Celestial Blue 7010, which looks fabulous in situ, with good strong colouring and a striking design.
Enigma was launched in June this year and is already proving to be a real winner for us (look out for more case studies in the near future). Its 'top-end' specification and attractive, practical, colour range, make it the perfect choice for any number of contract or commercial locations. It's really in its element here, at Hull College, and we're confident it will perform in line with the client's expectations.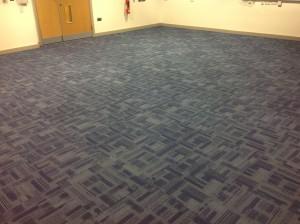 Technical Sales Consultant for the project, Michael Gillespie said -
"You get a feel for a product whilst it's in development, and for its sales potential when you see the sampling and the presentation, but it's only really when you see the product installed and on the floor, that you get a proper sense of what it's all about - this one's clearly a quality product, that really looks the part."
Here at Birch Carpets, we're all about producing carpets and carpet tiles that we believe in. For more information on our product range please contact us or your local Technical Sales Consultant. Samples of Enigma carpet tiles are readily available through our website or via our Sales Team on 0114 243 1230.